2019 has been a year where we have continued to gain more balance in the real estate market. Inventory levels have increased, days on market are longer, negotiations have opened up, and the constricted multiple-offer market is no longer the norm. It has been comforting to see price appreciation temper and move towards more normal, historical levels. Today's market certainly seems more sustainable and has provided some great opportunities for both buyers and sellers, especially for those that are both.
Recently, I did an analysis on new phenomenon that has presented itself. This is the presence of a dual market. A dual market is when you have different market conditions within the same overarching real estate market. This duality presents amazing opportunities for sellers who are also buyers, depending on where they want to go.
Two dual markets that I have discovered are the move-up market and the move-out market. The move-up market is when you sell the home you are in and move up to an upgraded home in a higher price point. For example, in Edmonds, WA there are many people who are interested in selling their current home and upgrading to a view home. When I analyzed the statistics in both sections of the Edmonds market it appears that a dual market is presenting itself.
In August, all homes in Edmonds under $1M had an absorption rate of 88% while all homes over a $1M, 16%. Months of inventory based on pending sales under $1M was only one month of available inventory, and over $1M, six months! That is the difference of a seller's market under $1M to a balanced market teetering on a buyer's market over $1M. After many solid years of strong appreciation, folks that are looking to cash out the equity on their current home and move it into a view home have the opportunity to move their investment with a sizable down payment and upgrade to the lifestyle they have been dreaming about.
Let's also not forget to mention today's interest rates. They are a point lower than they were a year ago, affording buyer's 10% more buying power. For example, a one-point lower rate on a home priced at $1.2M will now afford a buyer the purchase of a home at $1.32M with the same monthly payment. Couple that with price appreciation tempering and you have a move-up market heyday in the making!
The other dual market that is exciting to witness is the move-out market. This is prevalent for the Baby Boomers looking to cash out on the home that they enjoyed during their working years, typically near job centers, and relocate to an outlying area to retire. The chart below illustrates the market conditions and prices in the urban markets and compares them to the market conditions in some of the most popular retirement destinations in the state, such as Sequim, Island County, Okanogan County, and Chelan County.  Note, if there is a destination that is not listed and you would like the statistics, please reach out. I have access to many markets across the state and beyond.  Also, I am a part of an agent network that I can access to put you in touch with capable experts across or out of the state to help educate and serve your real estate needs with these markets.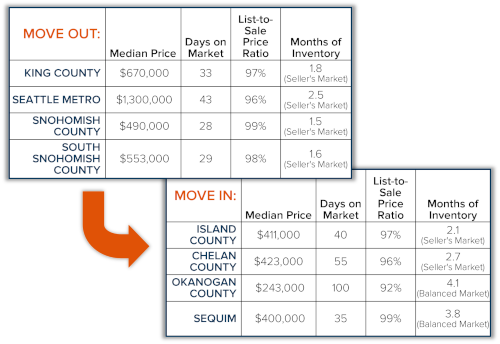 The previous, hard-core seller's market we experienced was quite the ride and built up some pretty major equity gains for homeowners across the board. It was exciting, but these more normal conditions are more pliable and comfortable. They allow for moves that don't require physically moving twice, high price escalations, or constantly getting beat out by other buyers to succeed. Overall, there is just more breathing room. Are there homes that get multiple offers, yes! Homes that are expertly brought to market with thoughtful pricing and dialed-in preparation are having fun with their results. Opportunities abound for both buyers and sellers, and in a market with more options it is important to align with an agent that can help navigate all the choices.
If you are curious about the opportunities these dual markets present, please reach out. It is my goal to help keep my clients educated and empowered to make strong decisions. This is especially rewarding when it leads to their next chapter in life, which are amazing transitions to be a part of. Stay tuned for next month's newsletter, when I will feature opportunities in the condominium market and how this duality is starting to take shape.