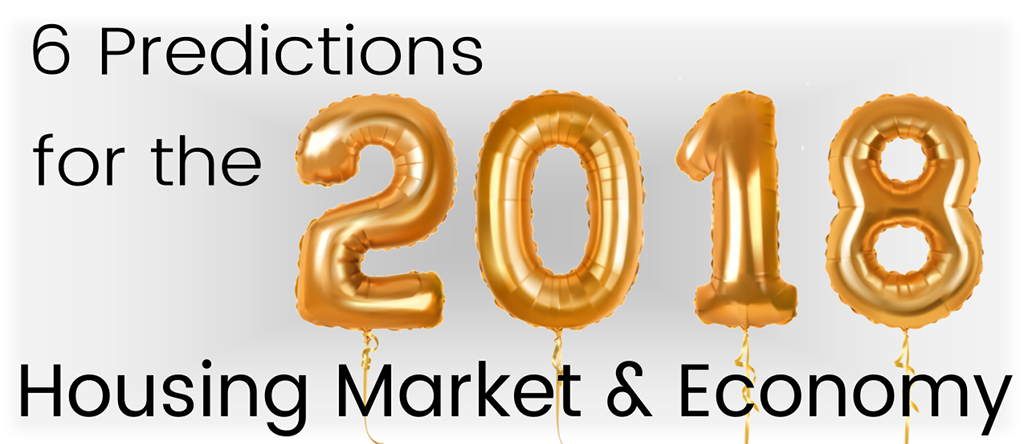 At Windermere, we have the privilege of working with esteemed economist, Matthew Gardner. Throughout the year, I have shared his quarterly Gardner Reports which delineate out all the different housing markets in Western Washington and reports on price appreciation and sales data. Below is a recent article he wrote about predictions for the 2018 real estate market; which was picked up by several news sources, including Inman News.
As a bonus, I recently had the opportunity to chat with him and get some specific insights on the Greater Seattle real estate market for 2018 and have included those at the end of this article. 2018 looks to be another strong year in real estate. If you are curious about how the market might affect your bottom line, please contact me. It is my goal to help keep my clients informed, empower strong decisions and create exceptional results. Here's to a very happy New Year!
What Can We Expect From the 2018 Housing Market?
by Matthew Gardner, Chief Economist, Windermere Real Estate

Millennial Home Buyers
Last year, I predicted that the big story for 2017 would be millennial home buyers and it appears I was a little too bullish. To date, first-time buyers have made up 34% of all home purchases this year – still below the 40% that is expected in a normalized market. Although they are buying, it is not across all regions of the country, but rather in less expensive markets such as North Dakota, Ohio, and Maryland.

For the coming year, I believe the number of millennial buyers will expand further and be one of the biggest influencers in the U.S. housing market. I also believe that they will begin buying in more expensive markets. That's because millennials are getting older and further into their careers, enabling them to save more money and raise their credit profiles.

Existing Home Sales
As far as existing home sales are concerned, in 2018 we should expect a reasonable increase of 3.7% – or 5.62 million housing units. In many areas, demand will continue to exceed supply, but a slight increase in inventory will help take some heat off the market. Because of this, home prices are likely to rise but by a more modest 4.4%.

New Home Sales
New home sales in 2018 should rise by around 8% to 655,000 units, with prices increasing by 4.1%. While housing starts – and therefore sales – will rise next year, they will still remain well below the long-term average due to escalating land, labor, materials, and regulatory costs. I do hold out hope that home builders will be able to help meet the high demand we're expecting from first-time buyers, but in many markets it's very difficult for them to do so due to rising construction costs.

Interest Rates
Interest rates continue to baffle forecasters. The anticipated rise that many of us have been predicting for several years has yet to materialize. As it stands right now, my forecast for 2018 is for interest rates to rise modestly to an average of 4.4% for a conventional 30-year fixed-rate mortgage – still remarkably low when compared to historic averages.

Tax Reform
There are changes to the income tax structure that could potentially have a significant impact on homeowners and the housing market. The first is the mortgage interest rate deduction which will be capped at $750,000 – down from $1,000,000. In theory this can be considered a tax on wealthy households, but there have been nearly 100,000 home sales this year where the mortgage loan was over $750,000 (almost 4% of total sales), so the effect will be felt more broadly.

That said, this change will disproportionately affect high-cost markets in California, New York, and Hawaii, and to a somewhat lesser degree, it will also be felt in Seattle, and parts of Colorado and Arizona. The capping of the deduction for state and local property taxes (SALT) at $10,000 will also negatively impact states with high property taxes, such as California, New York, and New Hampshire.

The final tax bill also eliminates the deduction for interest on home equity loans which is currently allowed on loans up to $100,000. This is significant because it will largely affect the growing number of homeowners who are choosing to remodel their home rather than try to find a new home in supply-starved markets like Seattle.

While these measures will likely have a dampening effect on housing, I do not believe they will lead to a substantial drop in home values. However, there is a concern that it will lead to fewer home sales, as households choose to stay put so they can continue to take advantage of the current mortgage interest deduction. The result could be fewer listings, which could actually cause home prices to rise at above-average rates for a longer period of time.

Housing Bubble
I continue to be concerned about housing affordability. Home prices have been rising across much of the country at unsustainable rates, and although I still contend that we are not in "bubble" territory, it does represent a substantial impediment to the long-term health of the housing market. But if home price growth begins to taper, as I predict it will in 2018, that should provide some relief in many markets where there are concerns about a housing bubble.

In summary, along with slowing home price growth, there should be a modest improvement in the number of homes for sale in 2018, and the total home sales will be higher than 2017. First-time buyers will continue to play a substantial role in the nation's housing market, but their influence may be limited depending on where the government lands on tax reform.

https://www.windermere.com/blogs/windermere/posts/1701
Gardner, Matthew. "What Can We Expect From The 2018 Housing Market?" Windermere Real Estate. Windermere.com, 8 December 2017. Web. 27 December 2017.
A Conversation with Matthew
It is always a pleasure to talk with Matthew. We recently discussed his thoughts on the Greater Seattle real estate market and what he sees shaping up for 2018.
Millennial homebuyers were more of an influence in the Greater Seattle market in 2017 because of the robust hiring that corporations such as Amazon have made. He thinks that this will continue to grow in 2018, because the cost of rent continues to rise at a rapid pace and in many cases owning makes superior financial sense. For example, it is not unheard of to pay $3,000 a month in rent for a unit in South Lake Union. While this eliminates a commute, it is an incredibly costly payment that goes entirely towards the landlord's investment. If one is willing and able to pay that much in rent, it is important to look at the fact that that number is equivalent to a mortgage payment on a $550,000 home! He predicts that we will see more millennial homebuyers move out to the more traditional suburbs to start building their wealth in real estate. Ideally, Millennials would love to live in "ex-urban" areas that are still close to their places of work; however, listings are slim and prices very high for this type of product.Therefore, he expects to see Millennials having to look at the suburbs when deciding where to buy.
In 2017, net in-migration totaled 50,000 in the Greater Seattle area. Matthew predicts that we will see the same in 2018 due to our robust job market and Californians continuing to move to the area. Employment in the region will continue to expand, but at lower rates than seen in 2017. That said, he sees more wage growth than job growth in 2018 as companies have done so much hiring over the last 3 years, and now they are focused on maintaining their employee base. Amazon has signed on to occupy 5 million additional square feet of space over and above the 8+ million square feet that they currently occupy, so we will continue to see job growth there. The unemployment rate will stay below 4% in 2018.
Matthew believes we will see a slight increase in inventory taking our market to hot from boiling. Some new construction will help this increase and he does expect to see some Baby Boomers deciding to either cash-out and leave the area, or downsize. This inventory growth should temper price growth and increase sales by 6%. In 2017, we saw a year-over-year price appreciation rate of 13% in the Greater Seattle area, and he predicts 8-8.5% for 2018. This is still well above the normal rate of 5.5%, but certainly much more sustainable than 13%!
Lastly, Matthew is adamant that we are not headed toward another bubble. The average down payment in the Greater Seattle area is now over $100,000 and home owners have great equity positions, which is a critical ingredient to a non-bubble market. Additionally, credit is still very tight and buyers are very highly qualified, and the rampant speculation that is the key sign of a bubble is not being seen locally. His biggest concern is affordability, and that we need to continue to find ways to create more housing through zoning changes and decreasing the cost of regulation for builders. This density would create more affordable housing.
Posted on January 4, 2018 at 10:46 am
Windermere Real Estate North
Posted in
Local Market Analysis
Tagged

Affordability, Buyer Demand, Economics, Equity, First Time Home Buyers, Home Values, Housing Bubble, Interest Rates, Millennials, New Listings, Real Estate, Real Estate Bubble